V700 REMOTE DISPLAY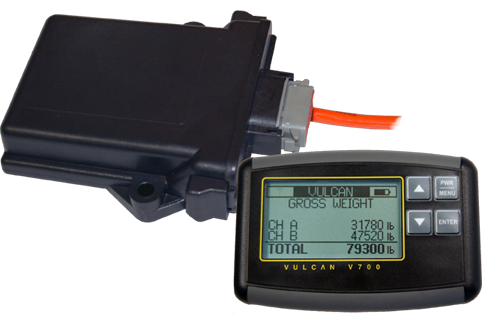 DESCRIPTION
The Vulcan V700 Remote Display makes it possible to view the on-board scale information remotely. The V700 transmitter monitors the information on the VSL line and transmits the data to the V700 Display.
FEATURES
Provides a remote display of weight information from Vulcanâs V320, V340, and V600 meters
Advanced spread-spectrum RF technology for reliable data transmission
Range: Typically 200 ft (depending on conditions)
Quick response time - updates once every second
V700 Display:
Large easy-to-read LCD with backlight
Displays up to 4 VSL channels with subtotals and grand total
User settable features:
Gross, Net, Pickup/Deliver operation modes
Units (pounds, kilograms, or tons) independent of the meter setting in the truck grad size independent of meter setting
Off, low, and high backlight settings
Auto-off after 1, 2, 3, or 4 minutes (plus always on)
Can operate over 30 hours on 2 AA batteries
Battery level indicator
Includes case and neck lanyard
V700 Transmitter:
Automatic âPlug and Playâ VSL interface, simply splice it into the VSL line
Seven user selectable RF frequencies to reduce interference
Rugged, easy-to-mount enclosure
SPECIFICATIONS
V700 Display:
Display: Variable backlit liquid crystal display
Size: 4.6âW x 1.0âD x 3.1âH
Power: 2 AA batteries

Battery Life:

38 hours (no backlight)
30 hours (low backlight)
6 hours (high backlight)


User selectable auto off feature to prolong battery life
Receiver: Uses advanced spread spectrum technology for reliable reception. Seven frequencies are user selectable for optimizing reception.
V700 Transmitter:
Size: 4.8âW x 5.3âD x 1.4âH
Electronics: Environmentally sealed
Connectors: Deutsch brand
DOWNLOAD PDF