FRONT FORK SCALE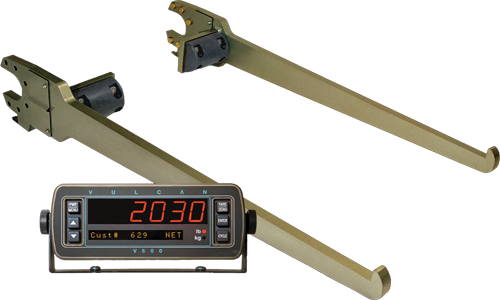 DESCRIPTION
The Vulcan Front Fork Scale fits all types of front loaders in refuse applications. The rugged, bolt-on weight sensing forks replace the truckâs existing forks. Working in conjunction with the Vulcan V600 electronics, the system measures the weight collected from each container and tracks the total net payload weight. The V600 meter offers data acquisition and expansion capabilities.
FEATURES
Flexible - manual, static, and weigh-in-motion options available (consult factory or appropriate Application Note for details)
Easy installation - replaces your existing forks
Bolt on - forks bolt to mounting kits that can be welded to various types of cross tubes
Rugged - machined from a solid bar of high strength alloy steel, uses reliable, double sealed military style connector
Light weight design - negligible impact on the truckâs weight
Data acquisition - can record up to 1500 events including: date, time, pick-up weight, stop number, and exceptions
Lockout feature - allows full operation of scales while safeguarding against accidental changing of calibration
Expansion capabilities - serial interface to printers, on-board computers, wireless communication systems, and other devices
SPECIFICATIONS
Note: Actual operational accuracy may vary. Consult factory for details.
Material: High strength alloy steel
Finish: Plated for increased rust protection
Material: High strength alloy steel
Finish: Plated for increased rust protection
DOWNLOAD PDF